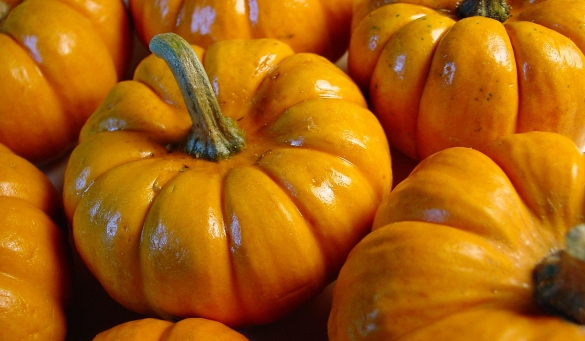 Submitted by ukyankee on 8 August, 2012 - 23:20
Description:
How to make your own pumpkin puree so you don't have to depend on finding tinned/canned Libby's, or maybe you just prefer homemade.
Ingredients:
2
pumpkin (of the small variety)
Notes:
Pumpkin puree can be frozen until needed.
Instructions:
Cut off the tops of the pumpkins, quarter them and remove the seeds the same way as you would to carve a pumpkin.
To Bake: You can optionally butter the cut edges before placing skin side up on a baking sheet, or place them in a baking dish with a little water. Bake until soft, approximately one hour, at 350 F or 180 C. Allow to cool.
To Boil: Cut into chunks, place in a large pan, cover with water and bring to a light boil, cooking until soft. Drain and cool. To Microwave: Cut into chunks, place in a large bowl (microwave safe) and cover with plastic wrap, cook on medium power until soft, checking every few minutes. Allow to cool.
Remove the cooked pumpkin skin and blend in a processor or blender, strain in a cheesecloth or strainer to rid of excess water.