Published: 30 June 2015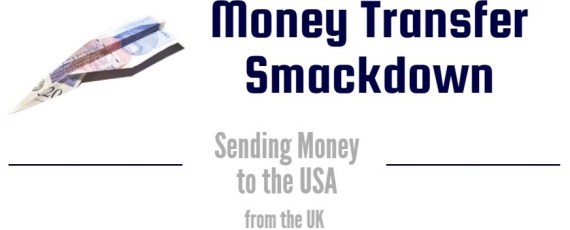 There are many reasons you would need to send money to the USA or UK and many methods to do it. We've looked at the most common methods to transfer money, like Western Union and traditional banks and also newer methods of sending money like Paypal and TransferWise, compared the costs and found out if any are suited best for different situations. The results were surprising!Let's tackle the traditional bank methods to transfer or send money first. Fifteen years ago, there weren't many options and sending money via bank transfers incurred hefty fees, rubbish exchange rates and took weeks to complete. Those fees might have come down a little, but the costs and clearing time can still be enough to make you wince and look for other more cost effective options like Paypal, Transferwise or other services.
Transferring money through banks
When sending money from UK banks to the USA, the fee starts around £20 and can take up to a week. When the money is received by the American bank, the bank may charge another similar fee to receive the international transfer($15-30) and a fee to exchange it ($5-10) at a less than favorable rate. These receiver fees will vary, bigger banks charge higher fees, they may be higher for business accounts, and it could be much cheaper at a credit union or between two branches of the same international bank.
"One of the first rules of transferring money overseas is avoid your bank," said James Daley of Fairer Finance (2014, quoted by The Telegraph 1) . "They tend to offer you a poor exchange rate and charge high fees."

Sending Cheques (or Checks) from the USA to the UK
Sending a cheque to the USA or UK will save on the bank transfer fees, but take more time and incur exchange fees for the recipient. It will take roughly a week in the post, and up to a few weeks to clear after it has been deposited, but there will still be an exchange fee and lousy exchange rate. Some bank accounts don't allow foreign cheque deposits without a separate foreign currency account which may have a weighty minimum balance. (Personal experience with NatWest but may no longer be the case.)
When you deposit your birthday check from Gran for $200 and in two weeks get your credit for £110, you'd be right to feel ripped off and deflated.

Overseas transfers with Western Union
Western Union has been around for over 150 years, beginning as a telecommunications company, sending telegrams until 2006. When the telephone replaced the telegraph, money transfers became their primary business.
Now you can transfer money to most countries using their website, for a fee. The maximum online transfer is 4000 GBP. To send $100 (today calculated at £65.93), the transfer fee is £5.90 and the WU exchange rate is (5 pence / 8 cents ) per £1 different to the current live rate.
$50 - £32.97 - fee £3.90
$100 - 65.93 - fee £5.90
$150 - 98.90 - fee 5.90
$250 - 164.83 - fee 9.90
$500 - 329.66 - fee 19.90
When you send money using the WU website, you're given a money transfer control number (MTCN) to provide to the recipient so that they can collect their funds from an agent. It says you can also send money to a US bank account if you have the necessary bank details, which takes 2-4 business days, but I have not had the option, Cash collection is the only option I've had. Note if you go to an agent to send the money instead of online, the fees may differ from above.
Western Union Calculator
Agent Location Search

Sending money with Paypal
Paypal was an easy answer to sending money online, initially established in 1998, and bought by Ebay in 2002. It's now a popular and safe method to send money between people and make purchases.
If you send money abroad to friends/family with Paypal, when using your bank account or PayPal balance the "cross border fee" is between .3 - 2%. If you use a debit or credit card, the "cross border fee" is between 3.4 - 7.4% and a fixed fee (20p) applies. 2
When the currency is converted, Paypal uses an exchange rate of approximately 2.5% markup on the wholesale exchange rate.
Sending money with TransferWise
TransferWise is a newer money transfer service, founded in 2010 by founders of Skype and backed with investment from Richard Branson.3 Frankly, we had not heard of them before they got in touch with us. Transferwise works differently to other transfer services, essentially, it holds currency accounts in multiple locations in order to eliminate the costly currency exchange transfer step and pass on the savings to its customers. It's reported that some £3 billion ($4.5 billion) has been transferred via the Transferwise platform, with cost savings of more than £135 million compared to traditional bank transfers. 4
To use their service, you "upload" funds to TransferWise and specify the details of the receiving bank account. This can be your own overseas bank, another person's bank account, or a business bank account. According to their website, transfer time can take one to two working days for US - UK transactions.
Sending GBP to USD
When sending from GBP (£) there is a minimum £2 fee for sending money transfers, a flat 0.5% service fee. There is a sending limit of £2000 if transferring using a debit card instead of bank transfer. 5

Sending USD to GBP
When sending from USD ($) there is a minimum fee of $3 for transfers up to $300, .85% fee on transfers up to $10,000, and 0.6% for amounts over the initial $10,000. There is also24-hour rate fix when transferring from USD (if the deposit is received within that 24 hours). The maximum payment amount is £1million.6
Note: The percentage rate on the transfer fees for Transferwise actually decreased since this article was written though the minimum fee increased a little. (2017)
Learn more about TransferWise.

How do the transfer services compare?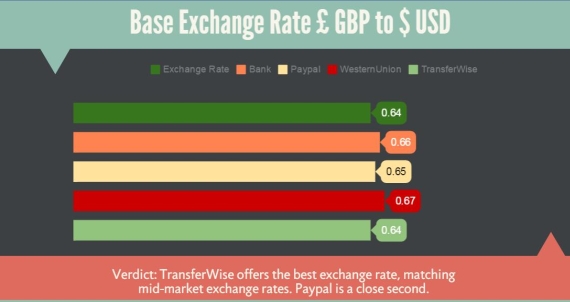 We calculated all the exchange rates and fees for a few amounts that people might wish to transfer, $250, $500, $1000, $5000 and $10,000. Where possible, we used the website calcuators to quote the fees. We loaded the figures into a spreadsheet and created charts to compare the transfer rates. TransferWise consistently blew the rest away, see for yourself, click the chart above to open the Money Transfer Smackdown infographic, to download, right click and Save image as.
Calculate your cheaper bank transfer.
Disclaimer:
UK Yankee has chosen to partner with TransferWise based on its superior value for money.
Links to TransferWise are affiliate links, which means we receive a small commission if you use their service.