Published: 04 April 2017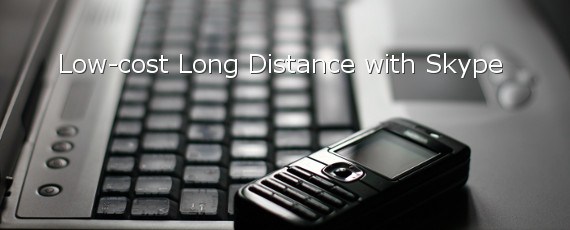 There are many low-cost ways to keep in touch with the USA, Skype is just one. Skype is a popular messenger/VOIP service that has been in operation since 2003, that was recently purchased by Microsoft and has absorbed the Microsoft Live Messenger accounts. The Skype application allows people to communicate for free by text chat, voice and video calls between Skype accounts, and also offers a service for making or receiving landline calls with a subscription. The monthly plans make it good value for money and the ability to 'rent' a US number that forwards to your Skype account or landline. Skype has a variety of features and pricing, so the best options for you will vary depending on the type of use that works best for your family.
Skype runs on Windows, Linux, iOS, Android and other device platforms, so almost everyone with internet access can use it. Skype-to-Skype communications are also secure, using trusted encryption techniques on its network, however, it's important to keep in mind that this encryption security does not apply when connecting calls to landline or mobile networks. Apparently, you can connect Skype to your Facebook account to get news feeds, instant messages, video chat and call your Facebook friends directly on their mobile or landlines (charges may apply depending on your subscription).
Which Skype set-up is right for you?
If everyone has computer access, Skype-to-Skype calls are free.
If you wish to call someone who doesn't have fast internet/computer access, Skype has affordable features for telephone network calls either to landlines or mobiles.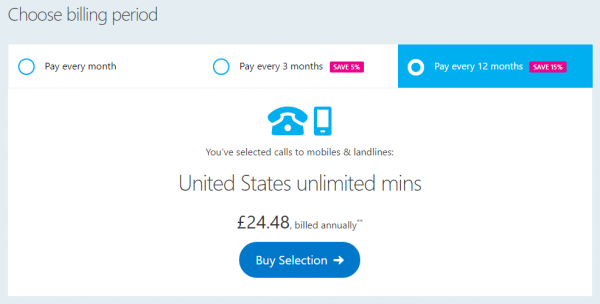 A monthly subscription to Skype's US-only plan is just £2.40 per month, 6.80 for three months, or £24.50 for a full year. Without a subscription, the call charges are 1.6p per minute if you pay as you go. (Pay as you go is not cost effective, you can get better rates elsewhere.) North America World is just £6 per month and includes unlimited calls to landlines and mobiles in the USA and Canada.
Skype to Go lets you set up a local number to call your contacts from any landline/mobile, no computer/internet needed.
Skype-to-Go is a great feature of a Skype World subscription, you can call a UK number that will forward to your US Contact. You can set up multiple quick numbers up in your Skype website account, to have a UK number for each contact. You can use your mobile or landline to call these numbers and only pay the local charge or free from your mobile if part your inclusive call time. Alternatively, you can call a general access number which will let you dial your international number, included in your Skype World subscription.
Skype Telephone Numbers (Skype-In) let US telephones and mobiles call your Skype account seamlessly
If you want to give your US friends and a family a local number they call to reach you on Skype (or forward to your landline), you can get a Skype Number add-on subscription and choose your own number from a pool of available number in a region/state. You can set your account to show this US number as the caller ID number for calls that you make. (Perfect for phoning US politicians offices?)
It's handy to give your friends and family the ability to easily phone you from their telephone/mobile, where it may only cost them the charge of a local phone call or be included in their allowance.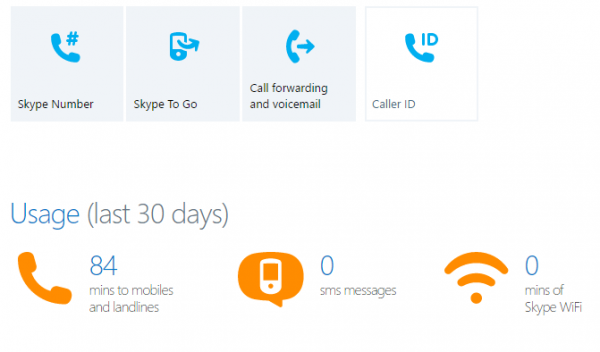 There are additional useful features such as call forwarding and voicemail. Incoming calls can be forwarded to your landline for free when you're offline or don't answer on Skype in a set amount of rings, enabling you to use your own telephone and answering machine for the incoming Skype calls. You can have the calls forwarded immediately if you wish. It would be handy to forward to a mobile but it requires additional fees.
If you have a Skype subscription, Skype numbers are up to half price, in the region of £12 for 3 months.
For me, I've been using Skype for over ten years and keep a 'Skype-In' Telephone number in the USA for my family to call at no extra charge to them, which are then forwarded directly to my UK landline. I usually call the USA via Skype-To-Go numbers on my landline. Skype call quality has usually been fine, just as good or better than a normal landline call, but there are occasional rare glitches.
The greatest shortcoming I've found with Skype is the extra fees to send text (SMS) messages and the lack of support for receiving them, so it's a feature I never used. To get around this, I have a Google Voice number for text messaging, which you could use to incorporate Skype call functions into Google Voice for the ability to send and receive text messages as well.
If you're wondering why not only use Google Voice? The phone number that you set up with Google Voice has to be verified through a code sent to a US number, so you need to keep both unless you can associate it to a friend or family member's number in the USA.
Next week we'll show you how to set up Google Voice with your Skype account to have full call and text support. In the meantime, check out Skype and tell us how you keep in touch in the comments below. :)