Published: 23 January 2013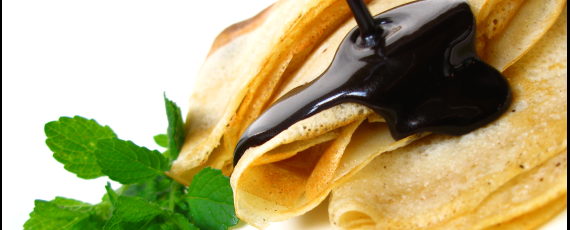 Here is your cut-out-and-keep guide to some of the events being held on Pancake Day in 2013.
The actual date of Pancake Day, more correctly known as Shrove Tuesday, changes every year but it is always around 7 weeks before Easter. This year, it falls on February 12th. Back in America, Pancake Day is also known as Mardi Gras, or Fat Tuesday, with parades and festivals taking place across the United States, and is a state holiday in Louisiana. It was traditionally celebrated with a half-holiday in towns and villages across the land, which began when the church bell was heard ringing out. As this time marked the start of the lent period of fasting, pancakes were made to use up richer ingredients such as milk, sugar and eggs. Over the years, this tradition has evolved into a day of celebration, as shown in the following events.
In Olney, Buckinghamshire, the annual pancake race is thought to be over 500 years old. Just before midday competitors, both male and female, put on headscarves and aprons and run from the market place to the church, flipping pancakes as they go. Once across the finishing line, the winner receives a 'kiss of peace' from the church minister. The race is twinned with another event held on the same day in Liberal, Kansas. The two locations compete each year for an international title.
At the Ironbridge Gorge Museum in Telford, ladies in full Victorian costume will be competing in pancake tossing events, including a one minute pancake toss challenge.
Littlehampton, Sussex will see a festival of pancake-related sporting events including sprints, relay races, obstacle-course events and even a pancake curling event. Prizes in the past have included gold, silver and bronze frying plans.
In Swadlincote, Derbyshire a craft fare and pancake race are held across the Delph Marketplace to raise money for Sport Relief. Events include a fancy dress competition with prizes and pancake-themed craft events held at the nearby Sharpe's Pottery Museum.
Shrove Tuesday is traditionally the time for 'mob football' games, the most famous of which is held in Ashbourne, Derbyshire. This kind of football match has been held here since the 12th Century. The event takes place every Shrove Tuesday and Ash Wednesday. The game lasts for up to 12 hours, and has only been cancelled twice. The two teams, the Up'ards and the Down'ards attempt to wrestle the ball to goal posts which are 3 miles apart. Which team you play for is determined at birth by which side of Henmore Brooke you are born. Those born to the north play for the Up'ards and those to the south, the Down'ards. It is an interesting, if perhaps a little chaotic, spectacle due to the large numbers of players and small number of rules!
These are just some of the rather more famous and eccentric celebrations being held on Pancake Day. If the above has whetted your appetite for some fun, and possibly a pancake or two, check in your local paper to find if there is anything is being organised where you live.
Finally, a couple of interesting facts related to Pancake Day...
- The world's largest pancake was created in Rochdale, Manchester in 1994 and weighed 3 tons.
- The first pancake recipe dates back to the 15th Century, and before baking soda existed, people used fallen snow.